Construction Firm
Jump to navigation
Jump to search
Construction Firm

Max. Tier
4
Conversion rate
60:1
Color theme

Brown
The construction firm is a building that you use to build and upgrade other town buildings.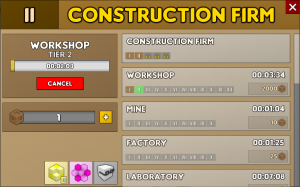 Building Tiers
Upgrading the construction firm unlocks more buildings to construct.
Building
There is a list of buildings, each costs a certain amount of brown resources and take a certain amount of time. At the start, there are tutorial arrows that show how to use the construction firm.
When constructing a building, or upgrading a building, they are closed and not active/usable, except the construction firm itself. Cancelling a construction project refunds ONLY the brown resources. Gems used in construction are lost.
When constructing a building or upgrading one, they get covered in different shaded brown cubes to show that the building is being worked on.
Skills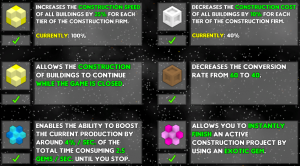 Exotic Skills

Construction Queue
Allows you to queue up 2 buildings (3 if construction firm is maximized) Which are then automatically constructed one after another.
Security Measures
Allows you to use buildings while they are being constructed.